Online Mixing or E-Mixing in the Mixing Studio
What Is MIXING?
Online mixing means joining together all the recorded audio tracks to one sound design. Volume adjustments, respectively panorama settings of all single elements like instrument tracks and vocal tracks are made. On this occasion, one differentiates between stereo (left, right) and 5.1 ("LCR" = main speaker left, middle and right. "LsRs" = surround speakerin the left and right back. "LFE" = subwoofer.) Subsequently, those tracks are tonally designed with various dynamics processors (i.e. compressor, gate, limiter), equalizer (graphic EQ, parametic EQ), effects (i.e. reverb, delay) or amplifiers (i.e. guitar amp, bass amp), so that all tracks create a musical balance. At the end of the mixing process, all processed tracks are joined to either a stereo mix, a 5.1 mix or a Dolby Surround Mix (i.e. for movies.) Afterwards, the mastering process takes place. For this, we offer you the fitting mastering service.
Online Mixing at Peak Studios
We offer the unique "New York Sound" at our mixing studio. Due to a cooperation with customers from the United States for many years, we generated a sound that is "warm," "deep," "clear," and "punchy." Our rooms are acoustically measured and optimized. The monitors are specifcally designed for mixing and mastering. With our high quality analogue outboard equipment and hi-end software tools, we reach the best possible result in online mixing. Completely how you desire.
SERVICE is of utmost importance for us! That is why we archive tracks, desires and settings so you will always have the opportunity to go back to for later projects or to request them again from us in the case of data loss. Before we start, we clarify your wishes, suggestions and concerns with you. When the mix is finished, we tak about it and perform modifications if needed. We can also offer an alternative version. Due to our long experience in the areas of online mixing and online mastering, we are able to get to a result that is worth listening quickly and without cmplications.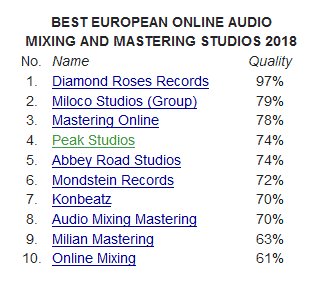 [gmb-review location="accounts/114260443187918735228/locations/6659064225353891706″ type="slider" minimum-stars="4″ sort-by="date" sort-order="desc" review-amount="200″ slides-page="1″ slides-scroll="1″ autoplay="false" speed="5000″ transition="slide" read-more="true" show-stars="true" show-date="true" show-quotes="true"]
For Whom Is Online Mixing Suitable?
Everyone who hasn't dealt with the topic of mixing or hasn't done so sufficiently is with an online mixing at our mixing studio at the right place. It takes a lot of time and work to get into the matter of mixing, so mixing by yourself is not always an option. We offer our services to anyone who hasn't the technical and spatial possibilities for an optimal sound result. No matter if you recorded your tracks with Cubase, Pro Tools, Logic or another sequencer, we can process those and, thanks to our sound console, give them the fitting sound.
---
---
The Procedure of Online Mixing – 5 Steps to the Finished Mixdown
You can

upload

your mixing tracks with one click. Please enter your name/e-mail address. Here you can find tips for data delivery

We look at your audio material and create an individual

offering

You can pay via

PayPal

, bank transfer or in cash – afterwards we start

with the mixdown of your

song

or audio material

You will receive a link to download your final mix to listen to it. You should do that on as many different devices (headphones, radio, stereo in the car etc.) as possible. You have the possibility to have 2

– 3

modifications

done on your project FOR FREE within seven days after the upload of the final files. Afterwards, you can still have your files changed for a fee

If the MIX is fine, we will archive it for free and you can acces it whenever you want (for a

fee.) If there are still any adjustments needed, we will be happy to do that for you
You want to do your own mixing, but don't get the desired result? Then you can take mixing lessons with Chris Jones. Not only does he provide you with the basic knowledge of mixing, he will also answer you individual questions and help with problems. You can also mix your tracks together with him! Get more information about the lessons here.