RECORDING IN THE RECORDING STUDIO
SUCCESSFUL COOPERATIONS WITH WELL-KNOWN ARTISTS
Would you like to start your own successful recording?
Recording in the recording studio - that's why it's worth it!
The first step Recording is part of the technical production of any sound experience. Whether it's songs with multiple instruments or one Voice recording of podcasts, audio books or announcement texts acts - before the finished end result from the Mixing and mastering processes can be worked out, it must first be recorded. There are a few things to consider, because the Quality of the recording is decisive for the basis on which you can work in mixing and mastering and how good the sound can be in the end.
Why is an audio recording worthwhile in our Recording studio in Würzburg actually more than just doing the recording with your own technology at home? The answer to this is relatively obvious: at the Record audio, be it individual voice-over recordings or extensive band productions, it's all about quality. Of course, small errors in the recording process can also be corrected afterwards in mixing or mastering, but even the best sound engineer cannot get as much out of a cell phone recording as he can with a clean recording from the audio recording studio impeccable studio acoustics and high quality equipment.
And that's exactly why producing an audio Recordings in the recording studio make more sensethan recording at home: A high-quality recording also requires professional software high quality technology - and the equipment of a professional recording studio requires space, optimal room acoustics and very expensive technology. When you consider how expensive it would be to set up your own recording studio, it becomes obvious why most musicians take up the offer of a recording studio.
In addition to using State-of-the-art equipment and professional software, you also benefit from the experience and expertise of technically skilled audio recording specialists, who have much more to offer than the basics they have learned themselves. In this respect, especially in a professional context, such as in music or when recording podcasts, recording studios are indispensable.
In some cases, the But it's best to do audio recordings in your own four walls, e.g. to maintain the exact room acoustics that one is used to during rehearsals. We offer for these situations mobile recording Equipment, software and recording technology.
RECORDING IN THE RECORDING STUDIO
Through our firmly implemented analog recording peripherals, suitable recording software and measured recording rooms, we achieve an excellent raw quality of the vocal or instrument recordings.
There are also other analog sound generators, instruments and analog outboard equipment for the ideal implementation of the song production.
Our engineer will of course support you with questions about performance and help you while recording in the process of achieving the best possible result.
RECORDING AT PEAK STUDIOS AND ITS BENEFITS
Hi-end recording chain
Hi-End acoustics (by MB-Akustik)
Over 15 years of experience in professional recording
Holistic support before, during and after the admission
Top-notch control rooms with monitoring facilities at mastering level
World best Recording equipment (see table or equipment list)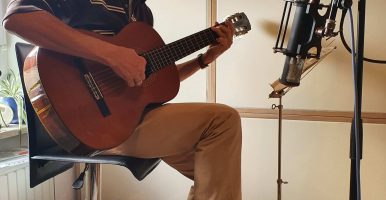 | INTERFACE | MICROPHONES | CABLES & TRIPODS | EXTERNAL PREAMPS | HEADPHONES | DI | amps | ROOM ACOUSTICS |
| --- | --- | --- | --- | --- | --- | --- | --- |
| | | Exclusively Sommercable & Vovox-Cable | | | Rupert Neve Designs DI Box | | Measured acoustics, SE Electronics Reflection Shield |
| | | 8x large microphone stands | Tegeler VTRC channel strip | | | Orange TH30 incl. 1 × 12 "cab | 5 acoustic walls can be set up |
| | | 2x microphone stands small | | | | | |
| | | | | | | | |
| | | | | | | | |
| | Manley Reference Cardioid | | | | | | |
| | | | | | | | |
Recording or the recording of vocals and / or instruments is possible in our 2 studios in Würzburg or Bamberg. Nevertheless, we offer a mobile recording solution for all those who like to be recorded in your premises.
STUDIO BAMBERG
Large selection of mics and preamps
STUDIO WURZBURG
Recording chain at the highest level
MOBILE RECORDING
Large selection of mics, preamps and effects
RECORDING PACKAGE S
1 hour Recording incl. engineer

Including mixing**, mastering

Including a modified version
RECORDING PACKAGE M
2 hours recording incl. engineer

Including mixing**, mastering

Including a modified version
RECORDING PACKAGE L
4 hours recording incl. engineer

Including mixing**, mastering

Including 2 modified versions in total
Prices include VAT
** Up to 20 instrumental tracks - more with additional charge.
STILL QUESTIONS ABOUT RECORDING?
Send us a message - we will usually get back to you within 3 hours (on working days).
You can reach us by phone from Monday to Friday from 09 a.m. to 20 p.m.