PODCAST MASTERING FROM PEAK STUDIOS
MASTERING, MIXING & EDITING OF PODCAST
With our speaker service, we provide you with a selection of possible speakers for your production. You can easily decide based on audio samples. We take care of the commissioning and order processing for you.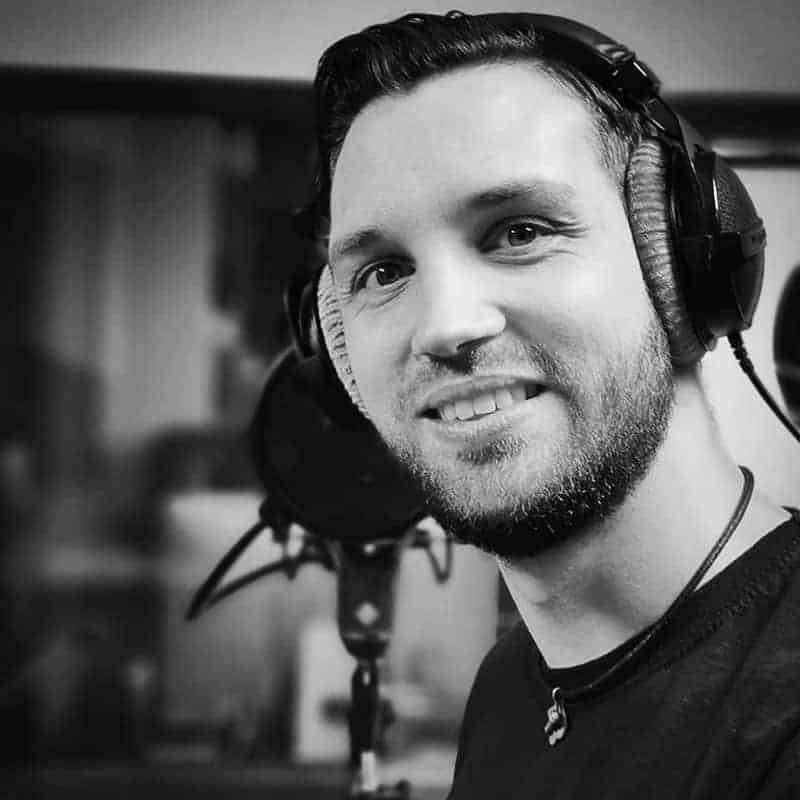 Receive a professional audio podcast with our speaker service!
My career as a professional speaker started on the other side of the disc. I worked for a long time in the production management of an agency and it was here that I discovered my passion for speaking. After a few years of experience, many training courses and private acting lessons, I now speak for clients such as IKEA, Netflix, Pokémon or Lego. I am also active as a musician and singer and a passionate gamer. I have a lot of fun taking on roles and lending my voice to characters. For example, I can be heard in the video game "Sniper Ghost Warrior 3", or I was allowed to set some of the new "Power Ranger Beast Morpher" action figures to music.
PODCAST PROCESSING - THERE ARE SOME POINTS TO NOTE
One might think that just because a podcast mostly only consists of the voice means nothing to consider when it comes to sound. This is unfortunately not the case. Whether it is interfering noises in the room acoustics or the environment, crosstalk during recording or during recording, the quality of the microphone or the uniform volume of the spoken word, the pitfalls are great.
PODCAST MIXING AND MASTERING - WE CARE FOR THE FINISH & PERFECT SOUND
When mastering and Podcast mixing or audio books, we ensure a pleasant sound for your voice, a balanced relationship between voice and any background music that may be present. We free your voice from interference frequencies such as "s" sounds, "ch" sounds or "pops" and ensure a pleasant listening experience. The uniform loudness of the voice over the entire podcast or audio book is particularly important. With our special tools, we adjust your volume differences so that you end up with a very good and pleasantly audible product.
OUR SERVICES FOR YOUR PODCAST
Adjust volume and loudness ratios
Removal of unwanted noise and interference frequencies
Room reverberation reduction
improvement of speech intelligibility
Playout in the right formats for streaming services or CD
BOOK A PROFESSIONAL SPEAKER NOW!
PODCAST AND SPEAKER PRIZES
Podcast mixing and podcast mastering prices are always an important criterion when deciding on the right mixing or mastering studio, especially for artists with a limited budget. We have therefore tried to be as transparent as possible. We are happy to grant generous discounts for larger projects!
AUDIO BOOK
Professionally set audio or non-fiction book including editing and editing
Recording including complete post-processing. Subdivision into chapters etc. play out in the desired format
PODCAST
Creation of Podacst, e-learning, training videos, explanatory videos and image films
Recording and complete post-production. Division into chapters. Playout in the desired format
EDITING
Editing and editing of audio material for podcasts, audio books, non-fiction books, radio advertising
Complete post-processing including mastering. Subdivision into chapters, etc., played out in the desired format, processed in the same way
* Stereo mastering = 1 stereo track. When uploading several group tracks, the stem mastering is booked automatically. ** at least 2 stems prices include VAT.
QUESTIONS ABOUT OUR SPEAKER SERVICE?
Send us a message - we will usually get back to you within 3 hours (on working days).
You can reach us by phone from Monday to Friday from 09 a.m. to 20 p.m.

I've been working with Chris for years. In contrast to other mastering studios, his mastering is characterized by the fact that he feels the mood and the musical style of the tracks and does not focus on extreme drones in the loudness war. His sensitive mixing and mastering is rarely found on this planet!

Top mixing and mastering studio! the boss Chris is super friendly and responded to all my special requests...great result. I can only recommend it to everyone...no matter what genre of music!

Great job in a short amount of time. Fast response time in communication, immediate help with questions. Great audio mastering, super fair price. Gladly again for the next project. Everything smooth! Thank you Chris!