DJ equipment to start with
DJ equipment to "get in" or "right" to do.
A little insight into the world between turntables and software samplers!
The good old times"
When vinyl was not yet available for "download".
In the days of Kool DJ Herc, the Dijing still consisted of two turntables, one Mixer, vinyl, a system, headphones and the scratching. Anyone in the 90s with HipHop grew up, wanted to own a Technics 1210 in order to be able to enjoy the "black gold" of his favorite artists in typical vinyl quality. Back then nobody had thought of playing CDs, Wav, Mp3 or other formats. A lot of instrumentals back then were produced using looped samples from old records and a hardware sampler like the Akai MPC.
DJ speakers, DJ lights and DJ headphones
How a culture is kicked to death!
Today's "dejaying" is fundamentally different, whether musically or technically. music will vary Genre obtained from the Internet and loaded into the software in the form of a high-quality audio format. In the selection of DJ software, there is something for almost every budget. Generally recommended is the Serato DJ from New Zealand, which includes all the functions that a DJ is looking for. The Traktor software series from Native Instruments is also highly recommended. If you don't want to spend money on professional software yet, you can download Virtual DJ for free. If you don't plan to play live, but want to create sets for yourself, you can also use software solutions such as Magix Digital DJ 2. In the area of ​​mixers and CD/MP3 players, there is also the right equipment for every budget. The Pioneer CDJ-2000nexus is recommended for those who want to scaffold themselves professionally. For the smaller purse there are some offers from Reloop, Gemini or Numark.
When stinginess gets hot!
Virtual DJ explanation for beginners
In the area of ​​DJ mixers, brands such as Allen, Health and Pioneer can be recommended in the upper price range, and brands such as Behringer, Reloop and Numark in the lower price range. To make it a little easier for you to get started, we would like to explain the important areas to you using Virtual DJ.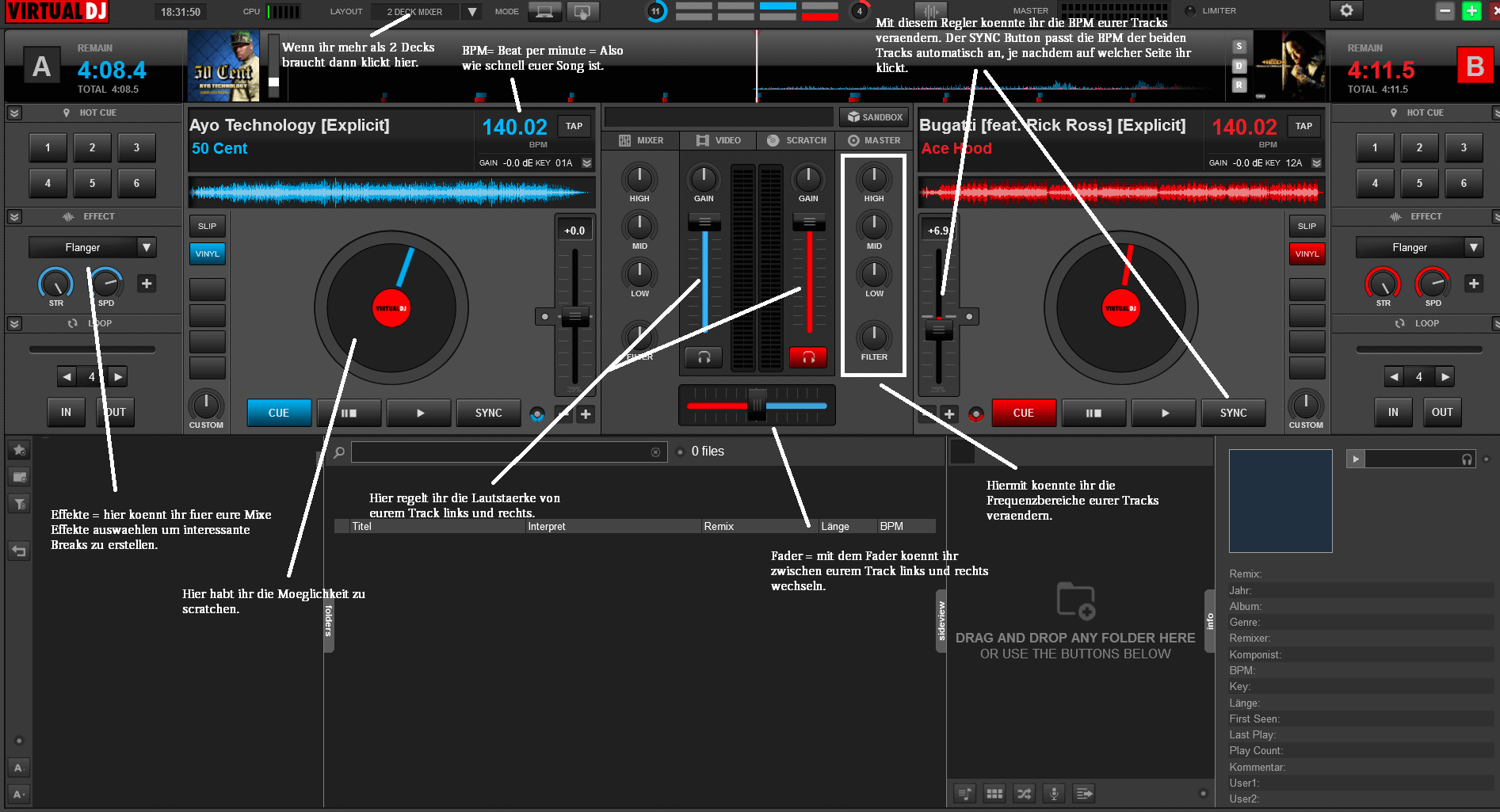 However, for a commercial release of your song, we strongly recommend a professional one mastering by experienced mastering engineers.