BEST MIXING AND MASTERING STUDIO IN EUROPE
4. BEST ONLINE MIXING AND MASTERING STUDIO IN EUROPE
The music website MusicToday has different in her mastering test 2018 Mixing and mastering studios tested in Europe and published the event on your website. Our studio is therefore one of the best in things Mastered in Germany and Europe.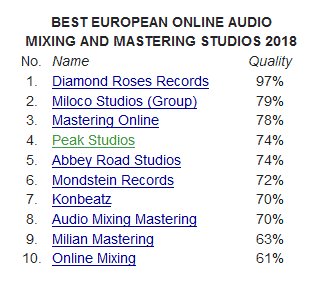 Among the studios tested are the legendary Abbey Road Studios and Milian Mastering. Music Today writes:
"This Online audio mixing and mastering studio makes a good and warm sound. The properties "depth", "space" and "width" show only minor defects. "Especially when it comes to finding Mastering studios recommendations are always an advantage.
We are very happy about this award and look forward to being tested again next year.